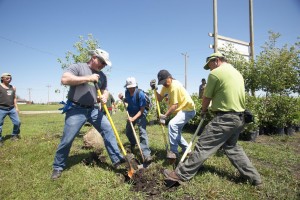 As an energy delivery company, Enbridge also devotes plenty of energy to its clients, its neighbours, and the environment.
First established more than 60 years ago, with more than 10,000 staff and contractors in Canada and the United States, Enbridge is an industry leader in the energy field and responsible for operating the longest, most sophisticated crude oil and liquids transportation system in the world.
"Enbridge is fortunate to have a presence in many communities across North America," says Craig Matwick, Community Relations Advisor for Enbridge's Western Region. "We value our neighbours and are focused on reducing environmental impacts where they are felt most."
At any given time, Enbridge is engaged in numerous environmental initiatives focusing on habitat restoration. Additionally, the company's Neutral Footprint initiative – part of its Corporate Social Responsibility (CSR) activities – provides another demonstration of the company's commitment to the environment.
Established four years ago, the ambitious Neutral Footprint program pledged to stabilize the company's environmental footprint to January 2009 levels.
"We plant a tree for every tree we remove, we conserve an acre of land for every acre of wilderness we permanently impact, and we generate a kilowatt hour of renewable energy for every kilowatt hour our operations consume," explains Matwick.
As of June 30, 2013, nearly 602,000 trees had been planted, replacing 594,877 trees that had been removed to accommodate new facilities.
"Our environmental department assesses each site to ensure optimal results," says Matwick. "We also consult with local stakeholders and elected officials to ensure we meet expectations, avoid introducing species that may be invasive or foreign to the region, and plant seedlings and mature trees where they will thrive."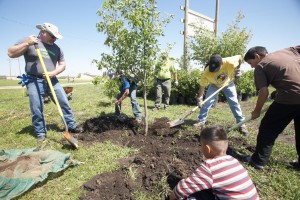 Conservation is another essential component of Enbridge's Neutral Footprint pledge. Working with the Nature Conservancy of Canada (NCC) and other organizations, Enbridge has conserved more than 51,000 acres of wilderness since 2009 – a figure that far exceeds the 2,434 acres that have been impacted as a result of ongoing operations.
Earlier this year, near a green-energy work site south of Lethbridge, two ferruginous hawk nests were discovered. A one-kilometre buffer zone was established around each of the nests in an effort to protect the raptors, which are classified as "endangered species" in Alberta.
"Completion of the project was only possible after a biologist and expert from Alberta Environment and Sustainable Resource Development confirmed that the hawks had moved on with their young," explains Matwick.
Enbridge works with government to deal with wildlife occurrences, and voluntarily schedules work activities during specific seasons to avoid sensitive time frames for some wildlife species, when possible. Enbridge also conducts preliminary surveys, and drafts mitigation plans, in making every attempt to have as little impact on wildlife as possible.
"We're always looking for ecologically sustainable solutions," says Matwick.
Enbridge has had remarkable success in that regard, including international recognition as one of the Global 100 Most Sustainable Corporations in the World for four years running. Enbridge has been repeatedly named to both the North American and World version of the Dow Jones Sustainability Index, and has earned multiple placements among Canada's Top 100 Employers and Canada's Greenest Employers.
"We are committed to going above and beyond regulatory requirements," says Matwick.  "It's about embracing sustainability, conducting business in a socially responsible and ethical manner, and protecting the environment and the safety of people."
As a member of the Strathcona Industrial Association (SIA), Enbridge is committed to environmental performance, safety, and community well-being.
Together, SIA members are ensuring heavy industry operators not only lead with responsible and sustainable policies and practices, but that they act as environmental stewards every step of the way. SIA is greening our capital region.