Rio Tinto Alcan Transforms Waste
For the last forty years, a small plant in southeast Edmonton has been playing a big role in the global aluminum industry.
The Rio Tinto Alcan facility is responsible for turning a waste byproduct from oil refineries into a key ingredient for the production of one of the most widely used, lightest, non-corrosive and infinitely recyclable metals.
"We are proud to be the only petroleum coke calcining plant in Alberta and one of just a handful in Canada," says Frederic Picard, Manager – Strathcona Works.  "We buy high quality green petroleum coke (GPC) from our partners and turn it into anode grade calcined coke for use in the aluminum smelting process."
Every year, 240,000 MT of GPC makes its way to the plant via rail from Alberta, Saskatchewan, Washington, California and Oklahoma.  The wet black product is then loaded into a rotary kiln and the calcining process begins.
As the temperature in the kiln rises to more than 1300°C, moisture and volatile combustion matter are removed.  The calcined coke is then cooled and prepared for transport.
"Our recovery rate is roughly 74 percent," says Picard.  "Once processed, the product is transported to aluminum smelters in Quebec and Washington."
Last year, 17 employees and half as many contractors onsite produced enough calcined coke to fill 2300 rail cars.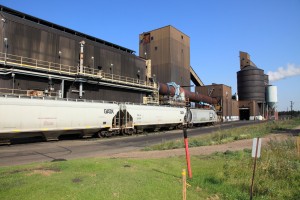 "Our team is focused on results," he says.  "Daily 'lean meetings' provide an opportunity for everyone to discuss issues that have transpired over the last 24 hours and anything that is upcoming.  It's about value adding and eliminating waste where possible."
Rio Tinto Alcan has had tremendous success in this area.
In 2003, the company invested $16 million dollars into replacing older gas treatment infrastructure with more efficient and effective technology.
"The installation of a new pyroscrubber meant that we were able to reduce our fugitive dust emissions by 50 percent," explains Picard.  "Since then we've undertaken a million dollar upgrade to further enhance our performance."
Rio Tinto Alcan continues to incorporate responsible resource use into production processes and internal practices.
"All water used on site is recycled and grey water is fed back into our production system where it cools the calcined coke," says Picard.
And earlier this year, the company celebrated Earth Day by changing over to a bottle free cooler system.
"We were using more than 600 large water bottles per year," explains Picard. "Our new systems provide virtually unlimited bottled water quality on tap through reverse osmosis and are better for the environment."
The company has also initiated a local recycling program that encourages staff to recycle dry cardboard, paper and plastics.
"For a small plant, we have accomplished a lot in the last couple of years," adds Picard. "We are cognizant of our activities and always looking for ways to improve."
As a member of the Strathcona Industrial Association (SIA), Rio Tinto Alcan is committed to environmental performance, safety and community wellbeing.
The company has played an active role in SIA governance since its inception and continues to represent SIA at other forums including the Alberta Capital Airshed and the Alberta Environment and Sustainable Resource Development's Capital Region Air Quality Management Framework Implementation Oversight Advisory Committee.
Together, SIA members are ensuring heavy industry operators not only lead with responsible and sustainable policies and practices, but that they act as environmental stewards at every step of the way. SIA is greening our capital region.