Suncor Taps Into Waste Water
Suncor has a long history of innovation.  The company first gained attention in 1967, after it pioneered commercial development of one of the largest petroleum resource basins in the world.
Almost twenty years later, Suncor's Edmonton facility marked another significant milestone when it became the first in Canada to refine upgraded synthetic crude from Alberta's signature oil sands.
"Our refinery operations have continued to evolve over time," says John Prusakowksi, Vice President of the Edmonton Refinery.  "This forward thinking helps us to identify growing North American energy market needs and to respond in a way that delivers a healthy environment for today and tomorrow."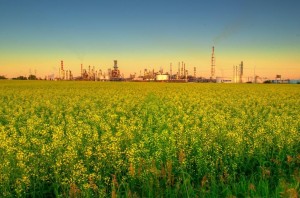 Suncor has demonstrated this commitment through its significant infrastructure investments in the capital region. In 2005, the Strathcona County refinery collaborated with EPCOR on an innovative water-recycling project aimed at reducing fresh water consumption.
"We designed and built a 5.5 kilometre water pipeline that links us directly to EPCOR's Gold Bar Wastewater Treatment Plant," explains Prusakowski.  "In doing so, we've set a precedent for our facilities and the industry at large."
The underground pipeline, that measures 18 inches across, represents the first large scale industrial water reuse project in Canada and is of just a handful in North America.
The project evolved years ago during the planning stages of Suncor's $2B Refinery Conversion Project which sought to up the capacity of the refinery's coker, expand hydrogen production, increase sulphur handling capability and enable oil sands feedstock processing.
"As we contemplated the refinery's expanded operations, we quickly realized our water use would need to increase to meet the facility's new steam and hydrogen requirements," says Prusakowski.  "Our existing pumping station on the North Saskatchewan River would have had to undergo significant upgrades to satisfy this increased demand."
Suncor recognized that a partnership with EPCOR would ensure more consistent, high quality water for the facility. It was a sound long-term investment.
The direct connection to the city's wastewater treatment plant means that the refinery now has access to 15 million litres of water each day.
"For us it's been a great solution," says Prusakowski.  "We've been able to balance our operational needs with a more environmentally friendly strategy.  It's good news for everyone."
As a member of the Strathcona Industrial Association (SIA), Suncor is committed to environmental performance, safety and community wellbeing.
Together, SIA members are ensuring heavy industry operators not only lead with responsible and sustainable policies and practices, but that they act as environmental stewards at every step of the way. SIA is greening our capital region.