Waste Management Centre Builds on Success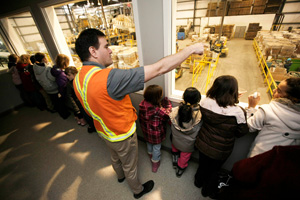 The Edmonton Waste Management Centre (EWMC) has a lot to offer.
The 233-hectare site is home to a number of integrated waste treatment plants, biosolids lagoons, a now closed landfill, as well as various state of the art training, research and operational facilities that receive, process, sort, compost and recycle residential, commercial and industrial wastes.
"We've grown significantly since the early eighties when we were simply a landfill with around 30 employees," explains Director of Business Planning and Central Operations, Jim Schubert.
"Today, we have more than 400 people on site and are proud to be the largest and one of the most advanced collection of modern, sustainable waste processing and research facilities in North America."
The award-winning Centre truly is Edmonton's one stop shop for waste management, bringing together all of the essential components into one giant location – large enough to accommodate nearly 1500 NHL hockey rinks.
"Our Centre has continued to evolve in order to keep pace with the needs of more than 1.1 million capital region residents," says Schubert. "We are constantly looking for innovative ways to manage different waste streams."
Unlike their European counterparts, the advancements at the EWMC have not been driven by a need to comply with regulations that mandate specific waste diversion levels.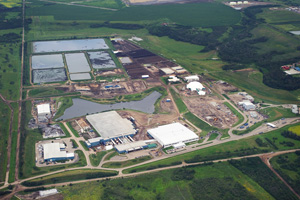 Edmonton waste management experts knew that their local landfill was nearing capacity in the 90's and that a suitable replacement would be difficult, if not impossible to secure. An investment in proactive waste management was paramount.
"We made a concerted effort to improve our processes, cultivate strategic partnerships and explore new ideas," says Schubert. "This helped ease the impact of the 2009 closure of our Clover Bar Landfill.
The landfill was operational for decades longer than expected, closing its gates after 34 years. This achievement is a result of forward thinking.
Edmonton was one of the first Canadian municipalities to adopt curbside recycling in 1988 and to incorporate composting in 2000. At the EWMC the focus has always been on sustainability, demonstrated by ongoing investments in cutting edge technology and infrastructure.
"We are currently able to divert 60 percent of our residential waste," says Schubert. "When the Waste-to-Biofuels facility comes on line later this year, that diversion number will increase to 90 percent."
This figure represents one of the highest diversion rates in the world and is further proof that Edmonton is an international leader in waste management.
Staff at the EWMC regularly meet with visitors from around the world who are eager to emulate the city's success. And the Mayor recently launched Waste RE-Solutions Edmonton, an arm's length corporation that looks to capitalize on our waste management expertise by selling it abroad.
But international industry and government officials aren't the only ones benefiting from the great work being done locally. Every year, the EWMC hosts more than 12,000 grade four students who tour through the various facilities as part of their school curriculum.
"Our Centre is designed to support learning," says Schubert. "We are training the next generation of recyclers in the hopes that they will outperform us."
As a member of the Strathcona Industrial Association (SIA), the Edmonton Waste Management Centre is committed to environmental performance, safety and community wellbeing.
Together, SIA members are ensuring heavy industry operators not only lead with responsible and sustainable policies and practices, but that they act as environmental stewards at every step of the way. SIA is greening our capital region.