Small Product, Big Impact
Celanese EVA (Ethylene Vinyl Acetate) Performance Polymers is making a difference, one bead at a time.
The Edmonton based polymers manufacturing plant is an integral component of Celanese, a global technology and specialty materials company that engineers and manufactures a wide variety of materials found in everyday products.
"We are the only company in Canada who manufacture and support a full range of specialty ethylene vinyl acetate copolymers," says David Gets, Director of Business Analysis.
Using state of the art technology, Celanese combines ethylene and vinyl acetate to form a unique copolymer that is shaped into tiny translucent plastic beads, each one measuring less than 5mm in diameter.
The company's versatile products are robust yet extremely elastic and widely used in adhesive, foam, automotive, packaging, and healthcare industries around the globe.
"Many of the flexible plastics people come into contact with at the hospital have originated at our site," explains Gets.
"IV bags and tubing as well as other highly specialized and sophisticated pharmaceutical devices like transdermal patches and implants are developed using our EVA copolymers."
From medical necessities to everyday items like running shoes, life jackets and stroller wheels, Celanese's specialty polymers are now prominent in many Asian, European, South and North American markets.
The company is an industry leader and proud to be a provider of products that influence consumer wellbeing and contribute to environmental sustainability.
"Our EVA film is used by a number of solar panel manufacturers as an encapsulate for photovoltaic cells," says Gets.  "We are actively involved in initiatives that support renewable energy and continue to look for ways to increase our own efficiency."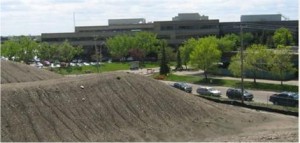 In east Edmonton, there are 230 employees who are constantly keeping an eye out for opportunities to optimize processes and procedures at their facility. There is a genuine focus on continuous improvement.
"We have enhanced our business by adopting improved burner technology, optimizing processes to reduce water consumption and retiring older, less efficient assets," says Gets.
Since taking over the manufacturing facility in 2006, Celanese has also demonstrated its commitment to improving things beyond their manufacturing plant doors.
The company invested over $400,000 into resurfacing and landscaping a portion of its 100 acre site that had been disrupted during earlier expansion initiatives.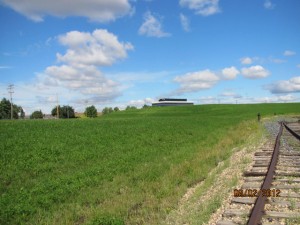 "By covering the area with vegetation we have been able to improve the aesthetics," says Gets. "The grass berm also serves as an effective sound buffer for the surrounding community."
As a member of the Strathcona Industrial Association (SIA), Celanese EVA is committed to environmental performance, safety and community wellbeing.
Together, SIA members are ensuring heavy industry operators not only lead with responsible and sustainable policies and practices, but that they act as environmental stewards at every step of the way.  SIA is greening our capital region.