Recycling is AltaSteel's Business
AltaSteel doesn't need to be convinced about the benefits of recycling, it's their business.
As one of the largest recyclers in Alberta, the scrap-based mini mill operation is giving new life to scrap steel. And the company is doing it well, generating more than $200 million in revenue last year alone.
"Steel scrap is an essential component of new steel manufacturing," says Environment and Industrial Hygiene Superintendent, Steven Lechuk.
"Using our melting and rolling facilities, we can turn scrap steel from recyclers and dismantlers into a wide array of industrial products used in the automotive, construction, agriculture, mining, oil and gas industries."
Founded in 1955, the Edmonton based business has made much more than a dent in the steel market.
It is one of the largest employers in the capital region and a world leader when it comes to manufacturing heat-treated grinding rod, a unique and exceptionally durable product that is used by mineral processors in North America and Asia.
Every day, AltaSteel turns trash into treasure as they recycle and repurpose materials that would otherwise be an eyesore in the community.
The cast offs are carefully positioned in the plant's electric arc furnace which reaches 1650 C and can transform up to 80 tonnes of solid steel to liquid in just over 90 minutes. This liquid then is formed into a steel billet.
"The scrap we collect produces approximately 300,000 tonnes of steel billets annually," says Lechuk.
To put that into perspective, imagine a line of mid sized cars, parked bumper to bumper, stretching from Edmonton to Vancouver and then back to Kamloops. Keep in mind, these cars are no longer roadworthy and need a new home.
Instead of being retired to landfills, dumped illegally or left out on a lawn to rust, conscientious consumers can make the most of their once trusty end of life vehicles by selling them to automotive recyclers and dismantlers.
AltaSteel is then happy to buy the resulting 'shred' from dealers, provided that it complies with the company's high standards.
"Our policy is that suppliers must ensure hazardous components, such as mercury switches, are removed from vehicles prior to melting and casting," explains Lechuk. "We require our scrap steel suppliers to participate in a mercury switch recovery program such as Switch Out."
The national Switch Out program, which was established in 2008 and is co-funded by AltaSteel, has helped to recover more than 420,000 mercury switches, or more than 400 kilograms of mercury in the last 5 years.
Up until 2003, these switches were a standard feature in thermostats, white goods and many automobiles.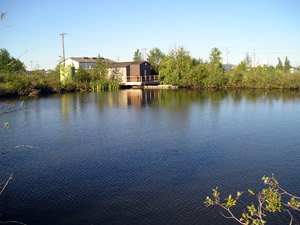 The tiny devices played a key role in anti-lock braking systems and convenience lighting but were phased out due to concerns regarding mercury toxicity and the potential for negative environmental impacts.
With the help of the Switch Out program, AltaSteel is now steering the industry towards healthier practices that benefit the community.
"Environmental management is one of our top priorities," says Lechuk. "We strive to produce quality products and are very mindful of our environmental impact throughout the entire manufacturing process."
As a member of the Strathcona Industrial Association (SIA), AltaSteel is committed to environmental performance, safety and community wellbeing. Together, SIA members are ensuring heavy industry operators not only lead with responsible and sustainable policies and practices, but that they act as environmental stewards at every step of the way. SIA is greening our capital region.