Kinder Morgan Canada Targets Weeds
Tailored Approach to Weed Management Yields Great Results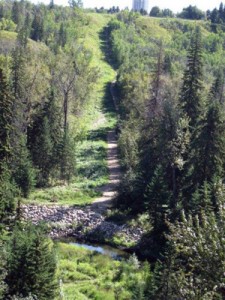 Kinder Morgan Canada, the operator of the 1,150km Trans Mountain pipeline that runs from Edmonton, Alberta to Burnaby, BC, is committed to being a good neighbor, and part of that is keeping the weeds on its pipeline right-of-way in check.
"Our weed management plan sets industry leading standards for vegetation management along the Trans Mountain pipeline," says Environmental Health and Safety Coordinator, Ryan Leier.
"It also sets out a clear process for managers and field personnel with regard to weed prevention, identification, monitoring and treatment," says Leier.
Developed in 2007, the plan continues to evolve. It captures current best practices and ensures compliance with National Energy Board regulations, as well as internal policies and environmental standards.
Completed in 1953, the Trans Mountain pipeline system transports both crude oil and refined products to marketing terminals and refineries on the west coast. As the pipeline weaves its way through the Alberta and British Columbia landscape, it traverses numerous communities, First Nation reserves, and national and provincial parks.
Kinder Morgan Canada is responsible for maintaining its 18-meter pipeline right-of-way, as well as the land surrounding pumping stations and terminals along the way.
"We are very conscious of our role in maintaining the landscape around our infrastructure," explains Leier. "Through our weed management plan, we can systematically look at the individual characteristics of an area and tailor remedial action accordingly."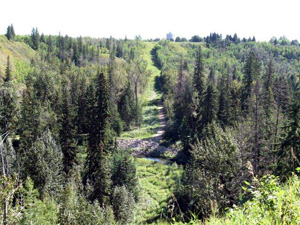 Every spring, qualified weed assessors survey and recommend appropriate treatment methods. Crews spend the next few months implementing weed management protocol that includes removing nuisance plants, cutting back unwanted growth and reintroducing native species.
"A big part of our program's success is our commitment to planting appropriate native species in areas where we have had disturbances related to operations and maintenance activities," says Leier. "Native plants not only thrive in this environment, they keep undesirable species from spreading."
Along the Whitemud Creek in Edmonton, rocks have been added to stabilize banks where the pipeline crosses, and native river valley species are flourishing following recent restoration initiatives on the pipeline right-of-way.
The proactive approach to weed management is more time consuming than traditional treatment strategies, but for Kinder Morgan Canada the end results justify the investment.
"By taking a targeted approach, we can reduce unnecessary application of weed control products," says Leier. "It's about doing the right thing for the environment."
As a member of the Strathcona Industrial Association (SIA), Kinder Morgan Canada is committed to environmental performance, safety and community well being. Together, SIA members are ensuring industry operators not only lead with responsible and sustainable policies and practices, but that they act as environmental stewards at every step of the way. SIA is greening our capital region.